New York Giants tie Jason Pierre-Paul down to four-year deal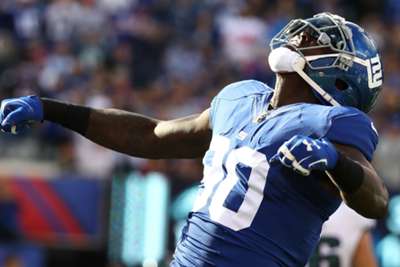 Jason Pierre-Paul has signed a new four-year contract with the New York Giants, the franchise announced on Friday.
Reports emerged earlier in the day that the defensive end - who they had placed the franchise tag on - had put pen to paper on an extended deal, but he denied the claims on Twitter.
However, hours later the Giants confirmed Pierre-Paul had indeed signed a renewal and is tied down for another four years. The agreement will reportedly see the pass-rusher earn $62 million with $40m guaranteed, averaging $15.5m annually.
"This is where I wanted to be," Pierre-Paul said in a statement.
"I couldn't imagine me being anywhere else. I'm back for four years and I'm ready to get after it.
"It means a lot to me, because I started here, and obviously I want to finish here. I've seen a lot of guys come and go, especially in my [draft] class.
"I'm the only one left in my class here. It means a lot. We won a Super Bowl here, and I'm looking forward to putting a fifth trophy in the case."
General manager Jerry Reese added: "We're happy to get a long-term deal with Jason. Not only is he one of our best players, he is one of our leaders."
In 95 regular-season games with the Giants, Pierre-Paul has recorded 50 sacks, 365 tackles (256 solo), 11 forced fumbles and seven fumble recoveries.
Though he suffered a season-ending groin injury in week 13 of the previous campaign, it served as a bounce-back season for the seven-year veteran after he suffered severe hand injuries in a 2015 fireworks accident.