Jason Pierre-Paul denies signing new four-year Giants deal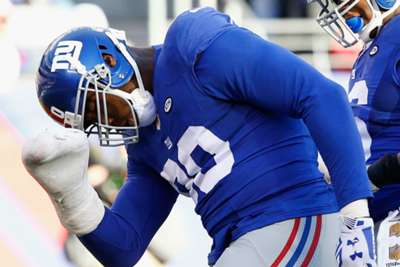 Jason Pierre-Paul has denied claims he has signed a new four-year contract with the New York Giants.
New York placed the franchise tag on Pierre-Paul, 28, after he recorded a team-high seven sacks as well as 53 combined tackles in 12 games in 2016, playing on a one-year contract.
But after reports emerged that he had put pen to paper on a new deal with the Giants, Pierre-Paul denied that was the case.
"What the heck is people talking about I ain't sign nothing," he wrote on Twitter.
"That's New York media for yah!! [sic] They always want the story first and they got it wrong."
Though he suffered a season-ending groin injury in week 13, it served as a bounce-back season for the seven-year veteran after he suffered severe hand injuries in a 2015 fireworks accident. 
Pierre-Paul has said he will not play the 2017 NFL season under a one-year tender deal.