Edelman compares ´stud´ Garoppolo to Favre and Rodgers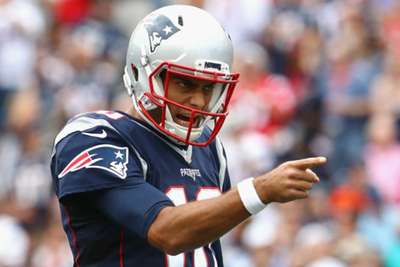 Regardless of where New England Patriots quarterback Jimmy Garoppolo ends up in 2017, his team-mate Julian Edelman knows he will be just fine.
Wide receiver Edelman said he believes the mentality of quarterback Garoppolo, who is the subject of offseason trade rumours, is as strong as some of the greatest signal callers to ever play the game.
Indeed, he compared the assertiveness of Tom Brady's backup to Brett Favre and Aaron Rodgers.
"I'm not a paid GM so I don't know the whole value thing, but as far as a guy that I could play with every single day, Jimmy Garoppolo, I mean, the guy's a stud," Edelman said on NFL Network's Total Access. 
"He went out and played in the regular season and he played very well.
"He's got that kind of gunslinger confidence. That Brett Favre, Aaron Rodgers kind of confidence. 
"He practices hard, he prepares hard. He's a good kid. He's young. I think he's a good player."
The Patriots are seeking a first-round pick and more for Garoppolo and are hoping quarterback-needy teams line up for a bidding war. 
The 25-year-old began the 2016 season as New England's starter with Brady banned the first four games, going 2-0 with 496 passing yards, four touchdowns and no interceptions before a shoulder injury forced Jacoby Brissett to take his place.